Staff Spotlight � Ceaser Moore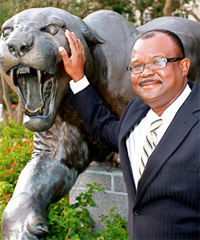 University of Houston Police Chief Ceaser Moore vividly remembers the day he spotted a pickup truck weaving through traffic on U.S. 59.

At the time, Moore was a sergeant with the Houston Police Department. He pulled the truck over, not sure what to expect. That�s when he encountered a frazzled couple speaking only Spanish and realized this wasn�t going to be a routine traffic stop.

�It took me a few moments to figure out what they were trying to tell me. What they were saying was the wife was in labor and about to give birth to a baby,� Moore said.

He ran around to the passenger side, opened the door and less than a minute later the baby was born.

�Nothing can really prepare you for the moment when you are having to deliver a baby on the side of the freeway,� he said.

In the end, baby and mom were taken to a nearby hospital and the story had a happy ending.

That incident is just one of many stories Moore can tell from his career with HPD, which lasted 27 � years until he was hired by the University of Houston last February to be its next police chief.

When Moore started his career with HPD, his patrol area included the area in and around the University of Houston campus.

�This was my beat the entire time I was a patrol officer,� he said.

A lot has changed at UH since Moore started his law-enforcement career in the mid-1980s. There are more new buildings, and Spur 5 didn�t exist back then.

He worked his way up the ladder at HPD, eventually becoming a captain, a position he held for eight years until he came to UH.

His selection as the UH police chief stands out to him as the highlight of his career.

�The university did a search nationwide and out of all the people who applied and had an opportunity, they chose me. To entrust the entire police organization to me was a very significant moment,� he said.

The decision to accept the job was an easy one for him to make.

�My career has been a great career. However, when the opportunity for UH came, it just seemed like a natural fit. I am a UH product � I went to UH-Downtown for my undergraduate degree,� he said.

He and his wife were married in nearby Wheeler Avenue Baptist Church, his father graduated from UH in the early 1970s, and his daughter graduated from here over four years ago.

Moore grew up in Houston and is a graduate of the High School for the Performing Arts. Not long after high school, he started collecting watches, a hobby that continues to this day.

�I don�t know what made me start doing it, but I had a couple of nice watches and I liked them,� he said.


He also owns a collection of Mercedes cars, the centerpiece being a 1966 model.

�I like the simplicity of older cars, versus cars now,� he said.

As chief, he oversees 50 police officers, 70 security officers and another 14 people who work in parking enforcement. Besides the main campus, he supervises the campuses in Victoria, Sugar Land, Cinco Ranch, Pearland and Downtown.

Going from HPD to a university setting was not that big of a transition, he said.

�The names may change, but the principles are the same. The difference would be, I know everybody who works for me here, while at HPD, there were so many officers and employees that I couldn�t possibly know everybody,� he said.