Student Spotlight
Angela Bryant
Human Resources student worker
By Richard Zagrzecki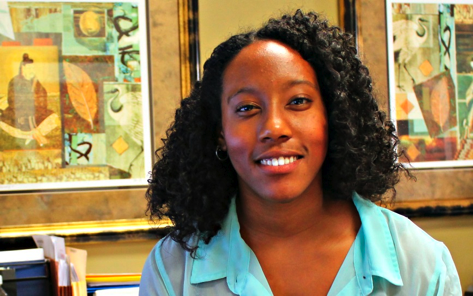 The way Angela Bryant sees it, her student worker job is helping prepare her for one day operating her own optometry practice.
Bryant, a biochemistry sophomore from Fort Worth, works in Human Resources. There, she assists Executive Administrative Assistant Shelia Williams and Associate VC/VP of Human Resources Joan Nelson with a variety of office-related duties, including filing, making copies and running errands.
Bryant views the day-to-day tasks as a valuable lesson.
"This job allows me to observe how an office operates and everything that goes on behind the scenes," she said. "I really enjoy the job and am thankful for the opportunity."
Bryant, who is the first member of her family to attend UH, chose to come here not only because it offered the academic program she was pursuing, but also because it allows her to remain relatively close to her family, which includes a younger brother who is still in elementary school. Home is just a few hours away by car.
Once she earns her bachelor's degree, her plan is to apply to UH's College of Optometry and study for a career as an optometrist. That path is one she knew decided she wanted to follow back when she was still a junior in high school.
"I always knew I wanted to do something related to the medical field. I have always been fascinated with eyes – how they work and operate – and so optometry seemed a natural fit for me," she said.
Besides her studies and student worker job, Bryant is involved with several organizations on campus. One is the Pre-Optometry Professional Society, known as POPS for short, which holds social gatherings and meetings that allow members to hear various speakers present on different topics involving the optometry field.
Bryant is an avid reader who knows how to play the viola, thanks to several years of learning that started in middle school when she joined the school's orchestra. She doesn't play it much since coming to UH, mainly because most of her time is taken up with studies and other school-related activities, as well as her job.
So what does she like most about UH?
"It's a common answer, but it has to be the people. UH is so incredibly diverse. I love how I am being exposed to all types of cultures and backgrounds," she said.