Employee Spotlight
Tim Edmond
UH Bookstore textbook manager
By Jessica Mize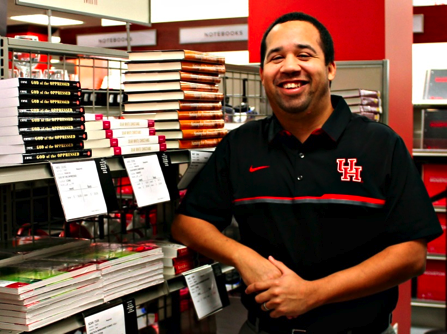 Tim Edmond can trace his experience with textbooks all the way back to his college years and not just because he used them to study for his classes.
While attending Sam Houston State University, Edmond, now the textbook manager for the UH Bookstore, accepted his first job with Barnes & Noble as a student worker in the campus bookstore, a role he admits he mainly took out of convenience as it was near all of his classes.
However, he quickly grew to love his job, so much so that he enrolled in Barnes & Noble's Bestseller Program, a company initiative that gives student workers a firsthand look at every department throughout the store from textbooks and apparel to online orders and more.
"The way the program is designed, you graduate into a position, either within the institution you're already serving, or somewhere else throughout Barnes & Noble," he said.
After earning his bachelor's degree in marketing, Edmond took on the role of textbook manager at the Barnes & Noble location at Sam Houston State University, before then getting promoted to assistant store manager.
From there, his career took him to the store at Wharton County Junior College then onto Rice University, before he finally found his way to his current role as textbook manager with the UH Bookstore.
"I've overseen the textbook department here since July," he said. "Textbooks have always been my bread and butter."
While Edmond, who was born and raised in Channelview, may just have six months under his belt in his current role, his experience with Barnes & Noble spans more than a decade, a milestone in which he takes a lot of pride.
To anyone who knows Edmond, though, it's no surprise that he has stuck with it for this long. His enthusiasm for his work is evident as he describes the day-to-day tasks and responsibilities that come with his current position.
From interacting with faculty members and University administrators to collaborating with members of the Bookstore Advisory Committee, he genuinely loves what he does.
"The joy and spirit that come with being on campus definitely helps keep me in this line of work," said Edmond. "You don't get that with a lot of other jobs."
Edmond's career has brought him not only professional fulfillment, but also happiness in his personal life, as well.
"I actually met my wife while working as a student at Sam Houston State," he said.
The pair just married this past October.
"At this point in my life, my proudest accomplishment, aside from graduating from college, has to be getting married," said the textbook professional. "We met eight years ago so it's really nice to finally be able to sort of join at the hip."
All enthusiasm aside, Edmond is honest about the challenges that come with his line of work, including smoothly and effectively navigating the shift from traditional textbooks to the incorporation of more rentals and e-books into the business; however, he's optimistic about the future because he knows Barnes & Noble is one of the leaders in its industry.
At the end of the day, Edmond never loses site of the real reason he and his coworkers are here.
"We really do have the best interest of the students at heart," he said. "Every day that we come to work, we do everything that we can to ensure that we are providing the best possible options for our students."