Facilities Planning & Construction
Districts assigned to principal project managers
By Jennifer Rea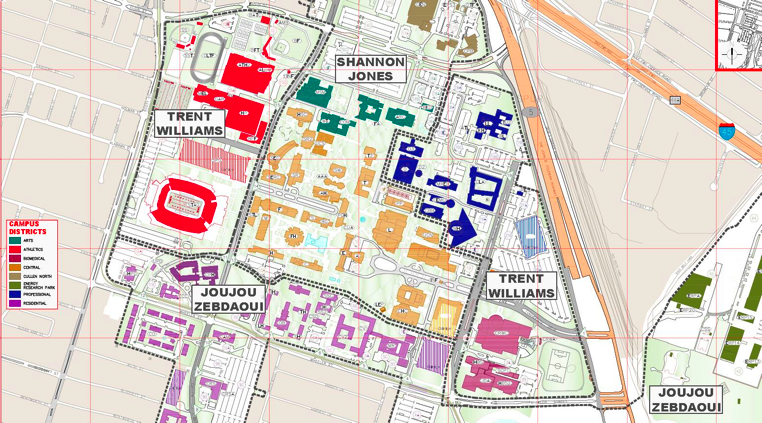 When Facilities Planning and Construction Executive Director Jim Wofford began last May, he noticed a legacy condition that existed. Multiple project managers could possibly oversee projects in the same buildings on campus. This did not seem to be an efficient manner for delivering projects.
After contemplating several possible process improvement alternatives, Wofford realized utilizing the existing campus district designations would provide a solution. He modeled the project delivery process after that concept and assigned principal project managers to each of the campus districts. Their assignments were based upon their existing experience with projects in those districts, existing relationships they had with "clients" in those districts, and the consideration of future projects.
The principal project manager district map was presented at the Building Coordinator Program's quarterly meeting in October. Now that the process has been in place for a few months, the feedback has been very positive.
Customers have appreciated knowing in advance which principal project manager will be working with them on their upcoming construction project. Wofford believes the process has undoubtedly helped increase the efficiency of Facilities Planning and Construction's project delivery process as well as enabled the principal project managers to focus on their areas of expertise. A summary of the project managers and their districts is as follows:
Shannon Jones
Central
Arts
Cullen
North
Jim Norcom
Component Campuses (not reflected on map)
Trent Williams
Athletics
Professional
Biomedical
Joujou Zebdaoui