Facilities Planning & Construction
Commemorative student marker unveiled
By Kriti Wadhera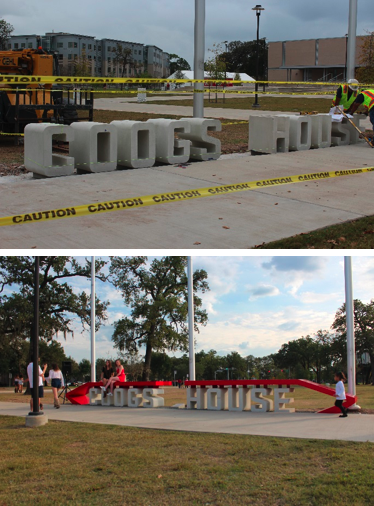 According to the TDECU student stadium referendum, a commemorative marker designed by students and recognizing the financial contributions and support made by students to the construction of the stadium was to be installed outside the facility. It will also serve as a visual designation of the student tailgating area.
The Student Government Association, in partnership with the Gerald D. Hines College of Architecture, the Division of Administration and Finance and the Athletics Department, announced a commemorative marker design competition for the students of the University of Houston in January 2016. These same departments sponsored this contest and the winners were selected during the SGA elections in March 2016. The winning team members were architecture students Alex Bishop, Abran Arvizu, Afreen Ali and Vy Truong. Their submission was titled "Whose House."
The project was introduced to Principal Project Manager Trent Williams in May 2016 when they had their first meeting. Williams started working with the student team immediately as they has a strict timeline.
"The winners are senior architecture students and they were great to work with. They were collaborative with each other and responded quickly to any of our requests. It was great to be able to help them bring their design to fruition," he said.
The schedule for the completion of the marker was very tight as it had to be done before the Homecoming football game on Nov. 12. The students provided the design and recommended the materials and then Williams put them in touch with the appropriate contractors. Before the unveiling of the marker, the winners expressed to a television news crew how precisely similar the final marker was compared to their original design. It was unveiled to the student body in a brief dedication ceremony earlier on the day of the game.
At the unveiling, President Renu Khator thanked the students for their continuous support and love for Cougar athletics and introduced their new commemorative marker. The students seemed excited about the new installation and were seen taking turns to get the perfect photo of them with the marker.
UH Facilities is proud to be a part of this project and looks forward to future projects of the same partnering and collaboration.