Sustainability
Learn how to grow your own food
By Urban Harvest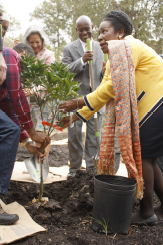 A surprising number of otherwise well-educated people complain when the activity of gardening comes up that they just don't have a green thumb.
If you are like the vast majority of people, in order to reach your potential in a garden, you will need to take classes, read books, and especially try and try again with your hands out there with the mosquitoes and in the dirt. You will not learn gardening over night any more than you could quickly learn to read or to drive a car or navigate Houston in rush hour.
Start by taking a class. If you are interested in vegetables, there is no better place than Urban Harvest's 25-hour class "Growing Organic Vegetables" taught two Thursday nights a month for five months starting Jan 24. Dr. Bob Randall and Gary Edmondson teaches this class series (Urban Harvest classes calendar). If you are interested in fruits, take Urban Harvest's many fruit classes January through February.
Urban Harvest has many other classes including permaculture which is how to design your landscape to maximize its uses and be sustainable with minimum cost and labor (starts Jan. 12). There are also a whole series of classes every fall on basic gardening techniques and in some years an amazing series on how to attract birds and butterflies and other wildlife to a landscape.
There are an abundant riches of other classes. Many county AgriLife agencies offer Master Gardening classes and Master Naturalist classes. Harris County Extension has a Green Thumb Series evening classes at different library locations. And there are many other topics available for study at Harris County Extension Horticulture. Galveston County Master Gardener classes start in February every year. Fort Bend's Master Gardeners have horticultural news letter that you can sign up for, as well as a master gardeners program. For other counties, phone them.
Classes can only take you so far. Both Urban Harvest and the Extensions offer opportunities to garden under guidance in real gardens. There are demonstration gardens at the Extension offices and you can volunteer in your neighborhood at many community gardens throughout the Houston area. See the Urban Harvest Community Gardens directory.
As well there are countless books and online sources. For vegetable gardening, the best resource for this area is the 12th edition of Dr. Bob Randall's book referenced below is in locally owned area garden centers, bookstores and the Saturday Urban Harvest Farmer's Market. Another great resource for gardening in the Texas Gulf Coast area is the Urban Harvest Gardening Advice page.
With regard to fruit growing, you might also check out the Gulf Coast Fruit Study Group archived newsletters. One particular resource available as a free download is "Our Edible Landscape" by Galveston Extension Volunteers Sam and Ginger Powers, Alcestis 'Cooky' Oberg, Margie Jenke, Sandra Devall, and Herman Auer.
This article is provided by Urban Harvest, Inc. To learn about gardening classes, farmers markets, school and community gardens and more go to www.urbanharvest.org or call 713-880-5540 for more information. Bob Randall, Ph.D. is the retired executive director and co-founder of Urban Harvest and is author of Year Round Vegetables, Fruits and Flowers for Metro-Houston available at the Urban Harvest Farmers Market.