A&F
Focus on campus art: Complementing murals line Student Center walls
By Richard Zagrzecki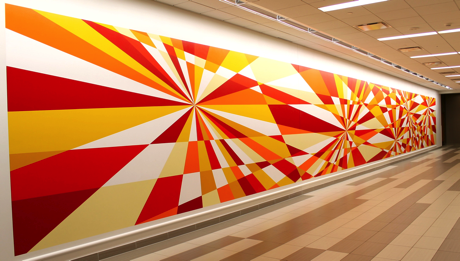 Just about everyone who has been inside the Student Center has admired the large geometric abstract mural that lines a wall on the first floor.
The painting, titled "Remembering Next Summer," was created two years ago by Houston artist Aaron Parazette in conjunction with the building's extensive renovation. It includes varying shades of red, orange, yellow and white and is located just to the east of the UH Bookstore in the hallway that leads down to the Student Center Theater.
What many may not realize, however, is that the piece has a similar looking sibling – smaller in size and comprising a different color palette – that resides in a less-traveled location above a lounge area on the building's second floor.
That complementing piece, also created by Parazette, hangs from a wall that looks out onto the circle driveway on the south side of the building. Visitors who happen to look up as they are about to walk in the building can see it through the large glass windows on the second floor.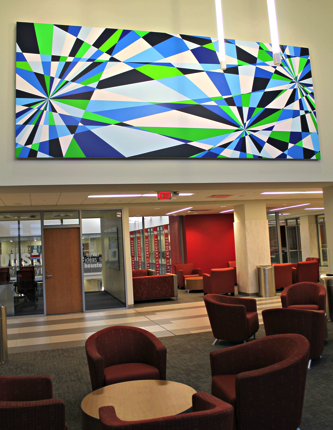 The smaller mural, which comprises shades of blue, green and white, is called "Free Dive." It's not as easy to spot as the larger one on the first floor. The only way to view it from inside the building is to walk into the lounge area, which is situated between study rooms near the top of the glass-enclosed stairwell.
Parazette, an associate professor in the School of Art and its director of Graduate Studies, had help from a team of three others as it took him two weeks to complete the larger mural in January 2014. The task was an enormous one, as the painting measures 77 feet by 10 feet – longer than a standard-sized city bus.
The smaller one was created later in the year at the end of the second phase of the renovation project.
Michael Guidry, curator of the Public Art Collection for the UH System, said the murals have been a wonderful addition to the Student Center, with the larger one often eliciting a sense of awe from visitors glancing at it for the first time.
"Students, faculty, staff and every other visitor who have passed through the Student Center have enjoyed gazing upon these eye-catching works, and will be able to do so for many years to come," he said.