Printing & Postal
Portion of roadway renamed Cougar Village Drive
By Kristina Michel
The road parallel to Wheeler Street north of the Metro Light Rail tracks has been renamed Cougar Village Drive. Building addresses along this street will reflect the new name. The numerical portion of the addresses will remain the same. Only the street name will be changed.
The change was brought about by the City of Houston. As the light rail was being constructed, Wheeler was realigned to the south of the tracks. The remaining road is considered a remnant by the City of Houston and was subsequently declared a new street with its own name.
The following table lists the UH campus buildings that will be affected by the street name change: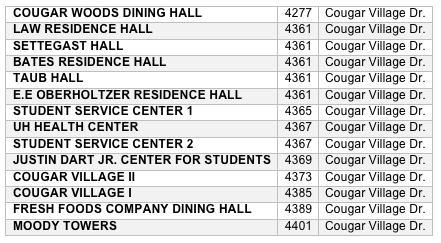 UH Printing and Postal Services has submitted the address name changes to the United States Postal Service so that the updates can be recorded in the National Zip Code Database. All changes should be completed and the new addresses should be used.
Printing and Postal will allow affected administrative offices that had purchased new stationery items as part of the larger campus wayfinding project to return them for reprinted items with the new street name. They will also extend the 15 percent discount for the purchase of new stationery items through Feb. 29.
Those with questions about the address name change should contact Printing and Postal at 713-743-5840 or email Sally Rowland-Ketley at sjrowland@central.uh.edu.