A&F
Focus on campus art: Complex 'Flow' a visual treat
By Richard Zagrzecki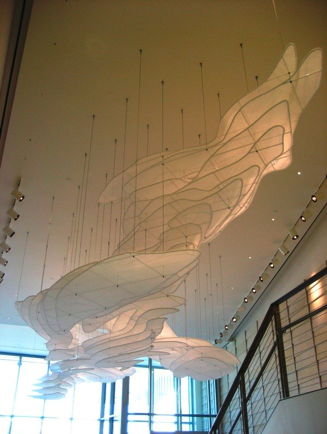 One of the University of Houston's most unique and complex pieces of art has the simplest of names: "Flow."
The hauntingly beautiful and peaceful creation has hung from the ceiling overlooking the staircase on the west side of the six-story Health and Biomedical Sciences Building since its installation in December 2012.
It is the brainchild of Richmond, Va.-based artist Kendall Buster, who was commissioned by UH to come up with an appropriate artwork to complement the building, which is, among other things, the home of the College of Optometry and the Molly and Doug Barnes Vision Institute.
It is that vision-related aspect that provided the artistic inspiration for the piece. Michael Guidry, the curator of the Public Art Collection for the UH System, said Buster set out to create a piece of art that was reflective of the College of Optometry. She considered the eye and how it's comprised mainly of liquid and created "Flow," which has a fluid-like feel to it.
The abstract work is quite complex, comprising 54 different panels made of powder-coated steel and white PVC mesh. The panels hang from 100 points in 18 layers. It took a team of professionals four days to complete the installation.
"Though the sculpture might be said to resemble a cloud or evoke in the viewer a sense of being under water, it is non-referential and meant to operate as part of the architectural space," states a description of the work on the artist's website.
To view 'Flow' for yourself, enter the doors facing Calhoun Street on the west side of the Health and Biomedical Sciences Building, then look up – the piece hangs from the ceiling in the staircase area directly inside the doorway.