Student Spotlight
Tim Adeyemo
Student worker in the Office of Emergency Management
By Richard Zagrzecki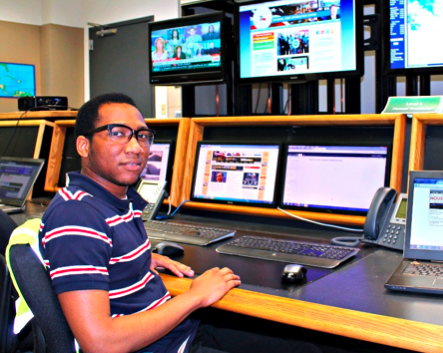 Tim Adeyemo knew his computer skills would come in handy when he accepted a student worker position with the University of Houston's Office of Emergency Management.
Little did he know that his acting skills would be an asset as well.
During a Campus Emergency Response Team training drill 15 months ago, Adeyemo was called upon to step in and act as a "victim" of a mock tornado that struck the campus. His assigned injury – brought to life courtesy of a talented make-up artist – was a puncture wound to his hand.
As the members of the CERT program combed through the staged disaster site in Building 13 of the Energy Research Park looking for victims, Adeyemo moaned and called out for help.
"I found out my acting skills are not that bad," he said.
Adeyemo, a senior computer science major from Lagos, Nigeria, has held the student worker job for the past two years. Most of the time, he can be found working quietly in the OEM office in the Houston Public Media building on the northeast side of campus. That will be coming to an end soon, as he is scheduled to graduate in May.
"Tim has been vital to the Office of Emergency Management's success and has been a huge part of our little family," said Kelly Boysen, interim director of Emergency Management. "We are really going to miss him when he graduates."
Adeyemo transferred to UH in the spring of 2012 from St. Paul's College in Lawrenceville, Va. Not long afterward, he interviewed for and accepted the student worker position.
Since then, he was instrumental in building OEM's new website. He also has had his hand in SharePoint development and maintaining the UH Emergency Operations Center's equipment and inventory. He also makes sure software is updated and maintained.
"He is extremely hard working and diligent. As a computer science major, his computer skills are very strong, but in addition to that, he is a fast learner and can pick up any skill or process," Boysen said.
After he graduates, Adeyemo hopes to find a job as a software developer, then move up the career ladder toward a leadership role.
The diversity that can be found on the UH campus, as well as the city of Houston itself, is what initially drew him to transfer here. It's also what he likes the most about the University.
"The diversity makes you understand how to connect and relate to other people from different backgrounds," he said.