Dining
UH Dining plays host to health and food service professionals
By Richard Zagrzecki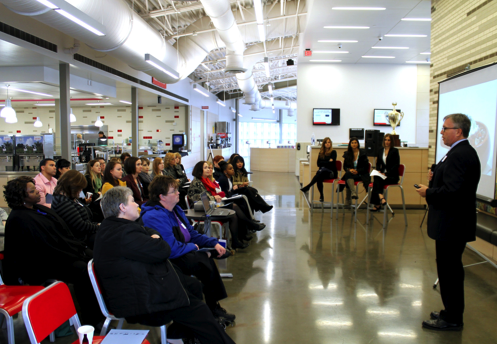 More than 30 health and food service professionals from school districts, colleges and hospitals across the Greater Houston area descended on the UH campus last month to learn more about healthy and meatless food options.
The Food Forward event, hosted by UH Dining Services, took place Jan. 14 in Cougar Woods, one of two dining halls that services the campus. It was designed to arm the professionals with valuable information that they can take back with them as they plan ways to improve the nutritional content of the meals they provide to their respective audiences.
The program provided valuable information and tips from speakers about meeting the growing demand for plant-based foods.
It also gave UH Dining Services an opportunity to show off all the nutritional and vegetarian programs and campaigns it has undertaken to provide healthier eating options for students.
Attendees were able to hear others talk about how to successfully promote healthy alternatives through different programs. Sarah Feye, UH's campus dietitian, was among the panel of speakers. She explained how the University's Meatless Monday program is marketed and how it became popular among students and others who eat in the campus dining halls.
The Meatless Monday campaign has spread to both of the University's dining halls and has become quite popular among students, Feye said. Vegetarian options are available for many of the entrees served in the dining halls on Monday. Signage, posters, tablings and social media posts are excellent ways to market it.
"We have found that 60 percent of students we have surveyed have said they would eat more often on campus if more healthy options were made available," Feye said. "We use Meatless Monday as one avenue for helping them navigate the healthy options we have."
For Feye, the Food Forward program was a big success that should pay dividends.
"All of the health and food service professionals will be able to take the information they received and apply it to their organizations' dining programs," she said. "Everyone benefits when more healthy and nutritious menus are made available."