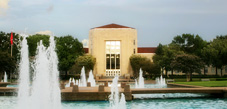 STUDENT SPOTLIGHT: JEFF CLARK
Jeff Clark never thought that when he signed up to compete for a spot on Executive Chef Brent Gorman�s chili cook-off team that he would end up with a job as a prep chef in Gorman�s kitchen, but that�s exactly what happened.

Clark is a second-year Human Nutrition & Foods major in the College of Liberal Arts and Social Sciences. His interest in food and culinary arts was sparked around age 13 when his family started getting the Food Network on television.

�I loved watching the Food Network and one day my dad suggested we try making one of the recipes that Emeril Lagasse showed,� said Clark. �After that I was hooked.�

His path to a position with UH Dining Services began when his friends heard about the chili cook-off competition for student assistants. Clark was known in his residence hall for being one of the few people to actually use the community kitchens to cook his own meals, so they suggested that he enter.

After winning a spot on the cook-off team, Clark got to spend an entire afternoon with Chef Gorman as they competed against the Rice dining team to create the best chili.

�Working with Chef Brent was great,� said Clark. �He is just so knowledgeable. It was like having access to this crazy encyclopedia of culinary facts, and I just loved getting to ask him all kinds of questions.�

Clark wasn�t the only one impressed, because soon after the competition Chef Gorman approached him about a part-time position on the catering kitchen team. Clark accepted and has been working as a prep assistant in the kitchen ever since.

�I thought I knew a lot about cooking when I started, but it didn�t take long for me to realize that I actually had a lot to learn,� said Clark. �It�s like I�m in Kindergarten again, but Chef Brent is a great resource and Manuela, the lead cook, has been very patient in teaching me how to do different things around the kitchen.�

It just goes to show that you never know where your next job opportunity might present itself, but if you put yourself out there and keep your eyes peeled anything can happen.

For more information about UH Dining Services visit www.uh.edu/dining.