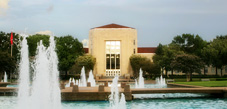 SIGNS INSTALLED FOR ENERGY RESEARCH PARK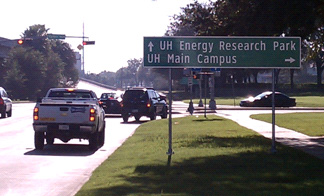 Energy Research Park has become a familiar destination this year for the UH community as a parking alternative. Now with the installation of signs from Texas Department of Transportation (TxDOT), commuters will be easily directed to the ERP campus as it gains popularity and prominence as a vital part of the University of Houston system.

ERP is growing, becoming a center for energy research and the home base for the Petroleum Engineering courses. The TxDOT signage was a much needed addition to the ERP campus due to its location around � mile east of the main UH campus.

�The Energy Research Park serves a strategic purpose in the growth of the UH campus,� said Sean York, Director of Real Estate Services. �With the new ConocoPhillips Petroleum Engineering Building completed in January, along with several research facilities and partnerships under construction or in the works, the campus is quickly developing into a synergistic focal point combining energy related education, research, industry partnerships and economic development.�

York�s team worked with a civil engineering firm Walter P. Moore to design the signs and determine the best locations. The plans were then submitted to TxDOT for review. After several meetings and revisions, the sign package was finally approved. The process took over a year from design to completion.

There are now 16 total signs installed along the north and southbound I45 feeder roads, Spur 5 and Elgin St. These signs will help direct traffic to the main campus as well as help direct people traveling from the main campus or I45 to the Energy Research Park.

Energy Research Park is located at 5000 Gulf Freeway and has a free UH shuttle service that travels to the main campus. The park covers 74 acres and contains 692,000 square feet of office and industrial space. For more information on ERP, visit www.uh.edu/ERP.