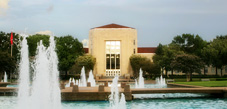 Safety Tips for Parking During the Holidays
Park in well-lit areas. Ask yourself what will the area you are parking in look like AFTER nightfall when you have finish shopping and return to your vehicle.

Make sure your car doors are locked at all times.

Don�t make your vehicle a display case for thieves who window shop by walking from car to car looking for merchandise in plain view. Put your purchases out of sight or in your trunk.

When walking to your car, survey the area around the building and the parking lot.

Walk with your head up and make eye contact with people passing by. The last thing a criminal wants is to be identified.

Have your keys ready to open the door or trunk as you approach your vehicle.

Check around and under your vehicle before unlocking the doors (key or remote) and entering.

Avoid placing your purse or purchases on top of your vehicle in order to open the door.

When in doubt, ask for a security escort from the mall to your vehicle.

If you see something suspicious upon arriving in a parking lot, do not get out of your vehicle. Park at another location and call the police with your observations. When returning to your vehicle and you see something suspicious, do not go directly to your vehicle. Return to the store and notify the police.