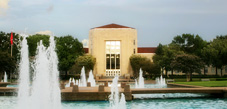 CLASSROOM AND BUSINESS BUILDING - SIDEWALK CLOSURE
On Friday, November 11, 2011 through March 12, 2012, there will be a sidewalk closure for the Classroom and Business Building (CBB) sitework and landscaping plan. Linbeck (contractor) will be relocating their current construction fence and have sidewalks closed temporarily for the project.

� The Phase 1 area of construction will occupy the space between UH CBB and Melcher Hall from November 11, 2011 through March 12, 2012.

� The Phase 2 area of construction includes the sidewalks that lead to Melcher Hall. These sidewalks will be demolished and re-installed during the winter break (December 19, 2011 � January 13, 2012). There will be no public access to these sidewalks during this time, thereby limiting access to Melcher Hall to the southwest area of the rotunda.

� UH will remove the existing crepe myrtle trees on or about Tuesday, November 15 for relocation to another area of campus.

� UH will remove and relocate the existing concrete tables.

Phase 1 completion is expected by March 12, 2012.
Phase 2 completion is expected by January 13, 2012.

Please contact Bernie Harless, Project Manager, if you have any questions related to this project at bharless@uh.edu or by phone at 713-743-8049.