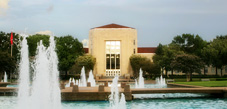 Road and Traffic Signal Work at Calhoun/University Blvd Intersection
The City of Houston has begun work at the intersection of Calhoun Road and University Boulevard. The City will be constructing dedicated left turn lanes for southbound Calhoun Road traffic and for westbound University Boulevard traffic. The City will also be replacing the traffic signals to be supported by rigid poles instead of hanging from cables.

At times, the City will need to close one lane of traffic for southbound Calhoun and westbound University Boulevard, but will always keep at least one lane open.

The work is expected to last through the end of December.

The University of Houston is working with the City of Houston to minimize the impact of this construction. For questions, please contact the Keith Ivy with University of Houston Plant Operations � Facilities Management at (713) 743-9262 or kmivy2@uh.edu.