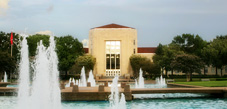 A DAY IN THE LIFE OF A UH POLICE OFFICER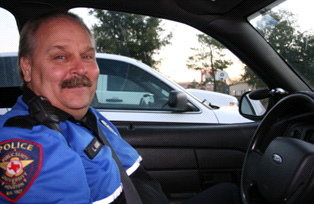 With our enrollment numbers higher than the total population of Huntsville, Texas, the University of Houston�s police department has a big job on their hands. There are a lot of students counting on them to keep their campus safe, and, as Officer Larry Adams will get first-hand knowledge of today, parents depend on their help as well in order to keep their children out of harm�s way.

The clock is just hitting 6:30 a.m. on a Tuesday morning and Officer Adams is already in his University of Houston patrol car answering a call. The father of a 17-year-old female student has been unable to reach his daughter since Friday evening and is out of his mind with worry. He calls the UHPD with hopes that they can help him find his daughter. During their last phone call Friday night, the father said she told him she was on her way to her room in Moody Towers to study for a test. However, he has been unable to reach her since and now her cell phone is going straight to voice mail. It has been three days.

Officer Adams goes right to work, getting the girl�s schedule and meeting with the other officers at the station to go over their plan. Her schedule said her first class begins at 8:30 a.m. so he takes the information along with a photo of the girl and plans to stand outside of her class and look for her as students arrive. In the meantime, his fellow officers at the station will keep digging for leads, and Officer Adams heads out to his next call.

This call is much less serious � a staff member is locked out of her building and needs assistance to get inside. UHPD officers will tell you their typical day has its highs, its lows and its in-betweens. This call can be considered a good trip because it means Officer Adams gets to visit some of his friends on campus. People around the university know and welcome Officer Adams� friendly face and warm greeting. He travels wherever the day and the calls shall take him, and he has made many friends along the way in his 27 years of service at the university.

�The best part of the job is the contact with the community,� he said. �I like to be out visiting and talking with people.�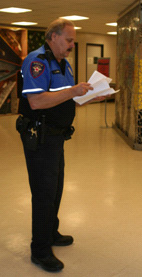 The University of Houston is a long way from Officer Adam�s hometown of Lorain, Ohio. After high school, he got a job in Ohio as a welder at a steel mill. However, after the industry took a hit in the early 1980s, Adams and his cousin left their small town and headed south to Texas. He attended the police academy in Alvin, applied for a job at the University of Houston�s Department of Public Safety, and has been here ever since.

Officers on the UH police department must go through rigorous training and licensing courses before hitting the streets. They must also receive updates in their training, attending courses regarding new legislation and more recently, active shooter training. Officers must also attend firearms training and re-qualify each year. Officer Adams said he is thankful that he has never had to fire his weapon during his term at the University, but said he has indeed had to pull his weapon while in the line of duty in order to get suspects to comply. Thankfully, all the altercations ended peacefully.

Today, there are no suspects to pursue, but there is still a lost girl to find. As the clock nears 8:30 a.m., Officer Adams heads to the Social Work building to look for the missing student. As students file into the classroom, he carefully examines the photo with hopes to find a matching face. After the class begins, the professor allows Officer Adams to make an announcement.

�No one is in trouble, I just need to give her a message,� he said to the class as he calls out the girl�s name.

But there is no luck and Officer Adams heads back to the station. Sgt. Paul Mauro tells him they were able to speak with the girl�s roommate. The roommate informs the officers that the girl rarely stays in the room, and she barely knows her. Officer Adams heads back to Moody Towers to talk with the missing girl�s father who is waiting anxiously in the lobby hoping his daughter will return.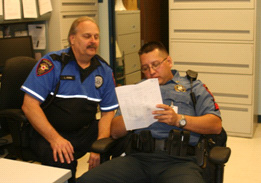 The father has still had no communication with his daughter and is growing increasingly anxious so Officer Adams heads out to follow a few more leads to determine if the girl has been on campus since Friday night before heading to her second class at 10 a.m. She is a no-show to her second class as well.

Disappointed, Officer Adams returns to his squad car. As a call comes in through dispatch requesting his return to the station, he said, �Maybe they found her!�

However, there is still no communication with the girl so Officer Adams, Sgt. Mauro and Assistant Chief Brad Wigtil confer at the station to determine the next step.

Assistant Chief Wigtil said they receive calls about missing students frequently but normally find the student within an hour. However, he said there are occasionally times when the case gets more involved and can become worrisome.

�This is disconcerting for us,� Wigtil said. �These are our kids here, our adopted kids, all 40,000 of them. So we are very concerned for them.�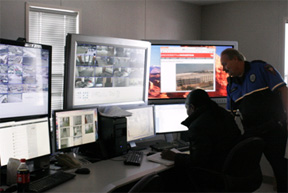 The father joins the officers at the station and allows access to his and his daughter�s phone records. Sgt. Mauro begins calling numbers to find friends who the missing girl may have spoken to. One friend answers and agrees to meet the officers after her class for an interview. As they wait, Officer Adams heads to the video surveillance room to check the tapes for the missing girl�s last recorded entry into her residence hall. They find her on tape and hold the footage in case it is needed. When he returns to the station, there has been a break in the case.

The friend was able to reach the missing girl who was out of town with another friend. The missing girl is contacting her father to let him know she is safe. Finally at 12 p.m., the case had come to a close and the officers were able to breathe a little easier.

The rest of the shift went by with much less conflict as Officer Adams returned to patrolling and checked on a call where a student fell and injured her ankle by Calhoun Lofts. The officer first responding to the call had alerted an ambulance to take the student to the hospital. Then came a call for a car accident along Spur 5. Officer Adams arrived on the scene to assess the situation while another officer filed the report. Luckily, no one was injured in the accident, however, tow trucks were needed to remove the vehicles from the intersection.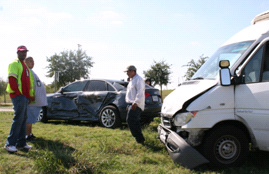 Officer Adams said on average he will respond to around 5 calls a day. The most common calls UHPD receives are for thefts of unsecured belongings or calls concerning a sick employee or student that needs medical attention. Officer Adams said calls for sick students tend to increase during finals when students are especially stressed and may not be eating regularly.

�Luckily, most of our calls are not too serious. Thankfully today everybody has turned out to be ok,� he said.

Officer Adams and the rest of the UHPD want students to feel comfortable approaching them for assistance. He said they make a special effort to speak at international student orientations because many students from other countries may come from an environment where their police officers are not trustworthy.

�We�re here to help,� he said. �We try to stress that that is what we are here for and I think we are getting through. A lot more students are coming to us now.�

The shift is ending and Officer Adams heads back to the station where he will return the squad car and keys and complete his paperwork. One more shift comes to a peaceful close.

�You make a good living here,� Officer Adams said. �I�ve been here for so long, I just stayed. And now, it�s time to move back.�

Officer Adams will retire on January 31, 2012. He will head back to Ohio to a town called Vermilion and leave the big city he has called home for the last 28 years.

�I�m not going to miss the traffic here,� he said jokingly. He said Vermilion is a quiet farm and fishing community with only a few traffic lights in the whole town. �All you have to watch out for are tractors and farm equipment and maybe a deer crossing the road.�

Officer Adams plans to enjoy his retirement by going fishing, taking care of his garden, adopting a dog from a shelter, and spending time with his family. He has a 91-year-old father as well as his two children, ages 35 and 33. He also plans to look after his two grandchildren, ages 12 and 3, as his daughter completes her nursing degree. He said he looks forward to retiring and returning to Ohio but will miss working for the university.

�I�ll miss the people here. It�s really like a big family here,� he said. �This place has been really good to me. Now I�ve got to make room for a younger officer to come in.�

Thank you to Officer Adams for your outstanding service to the university, and congratulations on your upcoming retirement!