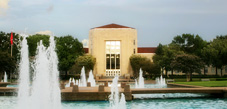 HELP PROVIDE FOOD FOR OTHERS AND RECEIVE A DISCOUNTED MEAL FROM UH DINING SERVICES
The holiday season is upon us and while many will be celebrating the holidays over large meals with their families, there are a great many people in Houston who will struggle to find any meal at all.

UH Dining Services is committed to helping those less fortunate, and we are asking for your support for our cause. From now until December 15, every Thursday in The Fresh Food Co. at Moody Towers or the RFoC at Oberholtzer Hall will be Caring Cougar Thursday. Any person who brings in one or more canned goods to either dining hall will receive $1 off the door price of their meal.

At the end of the semester, all of the canned goods collected will be donated to the Houston Food Bank. We thank you in advance for your support and hope you have a wonderful holiday season!

For more information about UH Dining Services visit www.uh.edu/dining.