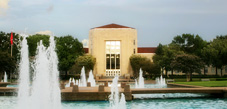 The Holiday Season Is Here!
The University Copy Center offers a full service mail center for all package and shipping needs right here on campus, and UH employees should be aware that they may utilize these services for personal shipping as well. Beat the shipping deadlines and ensure your holiday packages arrive safe and on time.

Authorized Shippers
University Copy Center is an authorized shipper for FedEx, UPS, DHL, and USPS. DHL offers a very affordable option specializing in international shipping. We have daily pick up and drop offs at our main location in the Welcome Center. We also have a full range of services geared towards economy, speed, and reliability.

Package Materials
Just bring us what needs to be shipped, and we will package it properly. We have materials to accommodate a wide range of items. Recently, we have shipped such items as valuables, furniture, ceramics, electronics and books.

UCC Package Alert
Contact us about our new Package Alert Program. For a low monthly fee, we will receive packages for you and then send an automated text/email to inform you that your package has arrived and is ready for pick up.

- You get a physical address and we accept all carriers and services.

- No wasted trips: With our notification system, you can come in when you know there is mail waiting.

- We ensure that your package will never be left on a doorstep or hauled back to the carrier�s local station.

Online Shopper
We can handle all of your shipping and receiving needs for your online purchases.

For more information about the University Copy Center, visit http://universitycopycenter.com/UH.