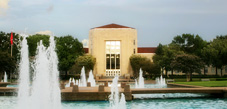 University Classroom and Business Building completed

Construction on the new University Classroom and Business Building is complete.

The five-story building has approximately 147,000 gross square feet. The first two floors will house eight 80-seat general purpose classrooms, a 56-seat computer classroom, a testing center, a writing center and administrative office space for various Academic Affairs departments.

The third, fourth and fifth floors will be dedicated to the Bauer College of Business and will include space for the Wolff Center for Entrepreneurship and the Executive MBA program, including student lounges, breakout rooms, conference rooms, student organization office space, administrative and clinical offices, a multi-purpose room and a quiet hall study area on the fifth floor.