Student Spotlight
Terry Bui
Printing and Postal student worker
By Richard Zagrzecki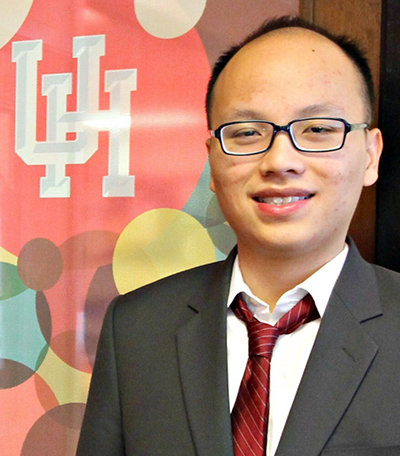 Terry Bui is a familiar face in Printing and Postal Services.
For more than three years – almost his entire academic career at the University of Houston – he has been a student worker, helping both the printing and postal operations.
Usually, he sits at a desk in the front foyer area of Printing and Postal, which is located in the General Services Building. There, no matter what type of day he is having, he can be found with a smile on his face and an optimistic outlook.
On any given day, he helps residential students, faculty and staff with questions about their mail, usually on the telephone or via email. That includes helping someone with a package they are expecting. On the printing side, he assists with invoicing, filing and any other small projects that arise.
It is a job he enjoys doing.
"I like being able to troubleshoot problems when someone does not get their mail on time and being able to provide a solution," he said. "This job also gives me the chance to improve my communication skills by listening more than talking. In addition, it teaches me how to multitask in completing many different assignments over a short period of time. For example, I have to invoice many printing jobs; help faculty, staff and students with package delivery and answer questions over the phone regarding certain mail issues, all at the same time. It can be overwhelming. However, with a friendly and cooperative working environment, all can be accomplished."
Bui, a mathematical biology senior who will be graduating this spring, is optimistic about life situations and believes the saying that life is 10 percent what happens to you and 90 percent how you respond to it.
"Even on days when people do not treat me with kindness, I always make sure to treat them with love and respect, keeping a smile on my face," he said.
Bui and his family immigrated to the United States when he was 15, first going to California before eventually settling down in Houston.
"It was a difficult decision to make when immigrating to the United States. I had to overcome the language barrier, cultural difference and isolation," he said. "However, I won't just give up in studying, because I know my parent sacrificed their lives to give me an opportunity to be in America. I know in my heart that I have to study and work harder."
Bui ended up choosing to attend UH not only because it offered a mathematical biology major, but also because it allowed him to remain close to his parents.
After graduation, he plans to attend dental school and eventually become a dentist, opening up a general practice. He envisions being able to provide free dental services to low-income individuals one day a week, as well as going on mission trips to help people around the world with their teeth and smiles.
In his spare time, he likes to read self-improvement books and exercise. He also volunteers at the Houston Food Bank, where he sorts and packages donated food items one day every week for about three hours.
"Success is not defined by how much money you have but by how many people are better off because you live," Bui said.
What does he like most about UH?
"I have some really great professors who are very willing to find ways of teaching that interest their students. They are always trying to make sure that the students understand the materials." He said. "My experience at UH and Printing and Postal Services would not be the same without Mrs. Marta Noriega and Ms. Khushbu Thakor. They are the two staff members I interact with the most, and they guide me in my day as a student worker. I have made friendships from the people I have met at Printing and Postal Service that I will never forget."