Employee Spotlight
Tramaine Johnson
Campus Services manager
By Kristina Michel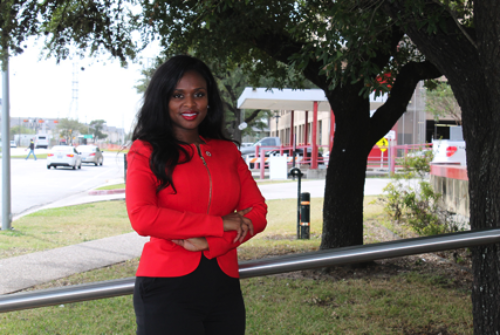 No day is a typical day for Tramaine Johnson. One day, she could be serving customers at the Cougar Card Office front counter. Another day, she could be attending resource fairs or events educating the UH community about Cougar Card services and the benefits associated with their campus ID card, or she could be staffing an event where students can swipe their Cougar Cards.
Johnson serves as manager of University of Houston Campus Services. She works primarily with the Cougar Card Office and Printing and Postal Services. Her main responsibilities include helping with major Campus Services projects, assisting Deborah Davis, director of Campus Services, and managing the front office staff of the Cougar Card Office, located at the UH Welcome Center.
"My day is sort of at will with the customers," said Johnson. "Some days, we can be extremely busy at the service counter, so whenever the University needs us or whenever our customers need us, we're here to serve them."
Johnson has been working at UH for 10 years. She began by working for the Cougar Card Office as a supervisor back when the office was located at the University Center.
"I was so excited when I first saw the opening at UH. I thought it would be a great opportunity for me to help people and show my good customer service skills," said Johnson. "I've always liked working in a customer service-based job. I like seeing people succeed around me. I wanted to be part of an institution that helps people succeed."
Johnson's roots in customer service run deep. Before joining UH, she worked as a customer service representative at Asurion, a cell phone insurance company. Before that, she was a stylist and owner/operator at a hair salon.
"It was a natural thing for me to do hair," said Johnson. "I grew up watching my grandmother and my aunt style hair. My aunt had a hair salon too. Styling hair was a way for me to express my creativity and help people feel beautiful. Seeing a client come out of the salon feeling like a new person, it's wonderful."
Though Johnson enjoys working with and assisting customers and clients, she especially enjoys working with her staff. She said one of the things she loves most about her job is watching her staff collaborate and find creative solutions to challenging projects.
"It just amazes me what a great team I have," said Johnson. "We learn things from each other."
When she's not working, Johnson volunteers her time at Covenant House, an organization that supports homeless teens. She also enjoys spending time with her family, especially her daughter, who is currently in middle school. Johnson is also finishing work on a business degree. She says that when she completes her degree and her daughter has gone on to college, she would like to utilize her cosmetology license by volunteering at the M.D. Anderson Beauty/Barber Shop, which provides complimentary salon services for cancer patients.
"Helping people with cancer and their families is something very dear to me," said Johnson. "I've lost relatives to cancer. I remember what my family went through and how much the volunteers helped us. I would like to do the same for others. I'd like to help cancer patents feel beautiful and rejuvenated during their chemo or rehabilitation."