Dining
Vegan options provided at Cougar Xpress Markets
By Nikolai Robinson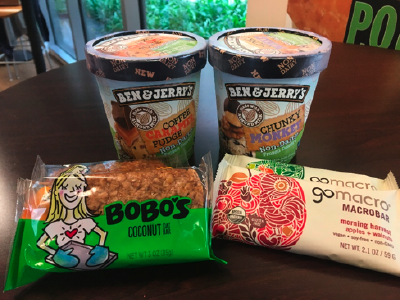 Students, faculty and staff who follow a vegan diet now have more options on campus. In addition to the vegan options at the two dining halls, the Cougar Xpress Markets offer plenty of options that accommodate vegan needs.
For breakfast, enjoy Modern Oats oatmeal, with blueberry, mango blackberry and 5-berry flavors, as well as cranberry almond Quaker Breakfast Flats.
For meals, entrees such as Asian noodles and ramen, tortilla soup and black bean and lime soup. Annie Chun's vegan bowls are also available, including the pad Thai brown rice noodles and her soup bowls that include peanut sesame, hot and sour, teriyaki, Thai and kung pao flavors.
Vegan snacks at the Cougar Xpress markets include Kettle's Uprooted vegetable chips, Divvies brownies, Belvita banana bread and blueberry wafers, numerous brands of trail mix, and different flavors of kettle corn. Boulder Canyon chips are also vegan, which include hickory barbecue, sea salt, cracked pepper, and other flavors.
A new non-dairy item on shelves now is the Ben & Jerry's vegan ice cream flavors Coffee Caramel Fudge and Chunky Monkey.
In addition, vegan Coogs can visit the new Cougar produce markets at both the Calhoun Lofts and Cougar Village Xpress Markets, which feature fresh produce such as blackberries, strawberries, cucumbers, potatoes, tomatoes, mangos, plums, grapes, celery and carrots.