CULLEN PERFORMANCE HALL
NPR's Snap Judgment bringing live version to Cullen Performance Hall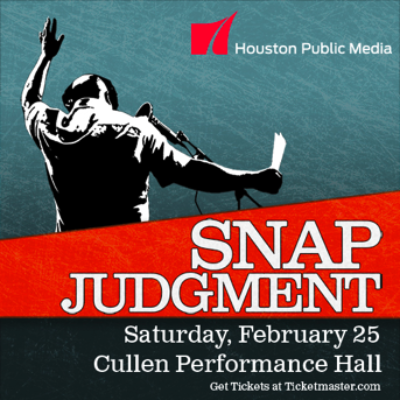 Snap Judgment, the storytelling phenomena electrifying audiences nationwide, is coming to Cullen Performance Hall on Feb. 25 at 8 p.m.
Tickets are available through Ticketmaster's website or by phone at 800-745-3000.
Created by Glynn Washington, produced by WNYC, and launched on NPR stations five years ago, Snap delivers a raw, intimate, musical brand of narrative that dares audiences to see the world through the eyes of another. The stage version features the world's finest storytellers backed by the Snap Judgment band.
Snap Judgment crafts powerful multi-platform experiences – radio, stage, screen, web – which deliver raw, intimate narratives that provide audiences a glimpse into the lives of a stranger.
Snap Judgment is heard weekly on over 365 public radio stations, and downloaded over two million times a month. The Atlantic magazine hailed Snap's Glynn Washington as "the first African American (NPR) host to swing a big cultural stick, the first who seems likely to become a public-radio superstar on the order of Glass or Garrison Keillor."
Before Snap Judgment, Washington worked as an educator, diplomat, community activist, actor and political strategist. He composed music for the Kunst Stoff dance performances in San Francisco, rocked live spoken word poetry in Detroit, joined a band in Indonesia, wrote several screenplays, painted a daring series of self-portraits, released a blues album, and thinks his stories are best served with cocktails.
For more information about Cullen Performance Hall, follow it on Twitter, Facebook and Instagram.