'Make Your Ride Count!' campaign kicks off on Cougar Line shuttles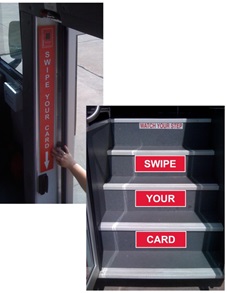 The "Make Your Ride Count!" campaign rolls out this month at the University of Houston with one major goal in mind: improving the shuttle bus service across campus.
The campaign asks riders to swipe their Cougar Card when boarding any of the new Cougar Line shuttle buses equipped with a card reader. By doing so, Parking and Transportation Services will be able to analyze shuttle usage, which will aid in determining areas of service that might need improvement.
"Swiping your Cougar Card is easy and simple to do and greatly benefits those who utilize the shuttle service," said Robert Browand, director of Parking and Transportation Services. "The ridership data that will be collected will help us monitor usage and make service adjustments as needed, such as adding more shuttle buses during peak times."

Riders do not have to worry about their private information being divulged when swiping their Cougar Card. All that is collected is the rider's Cougar Card number, the shuttle number and route, and the date and time of boarding. None of the information collected by the card swipes will be shared with anyone else.
The campaign is kicking off at the same time a new fleet of larger, more comfortable shuttle buses are being introduced. The card readers are conveniently located on the right side of the front door of these new buses for when riders first step on board.
Riders who don't have their Cougar Cards with them are still able to ride the shuttles, which are popular for students. During the 2012-13 academic year, the three shuttle routes serviced a total of 1.4 million riders.
The shuttles operate Monday through Thursday from 7 a.m. to 11 p.m., and Friday from 7 a.m. to 9 p.m. At any given time, the routes will have from two to six buses in operation, depending on the usage level.