UH Dining team attends national training to provide better service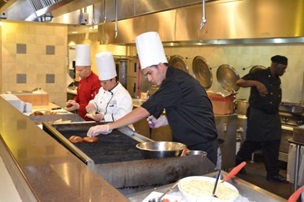 The University of Houston Dining Services management team attended Fresh Food Company training at the College of Charleston in South Carolina. The training, which took place in late July, was geared toward maximizing available dining hall resources while providing excellent customer service.
As part of the training, attendees were required to prepare meals for 700 to 800 customers. This allowed management to gain hands-on experience and try out recipes. During the training, many recipes were improved to better fit customer needs.
Top management from across ARAMARK's Higher Education segment attended the two-day training. University of Houston Dining Services was represented by Director of Operations Shannon Mariani, Executive District Chef Michael Bargas and Executive Sous Chef Mark Hawkins.
"It was a very rewarding and educational experience to be part of a training workshop for Fresh Food Company," Hawkins said. "Fresh Food Company is unlike your typical dining hall. It is not only about the food production it is also about the entire guest experience."