STUDENT Spotlight
Bianka Butler
PTS program coordinator
By Richard Zagrzecki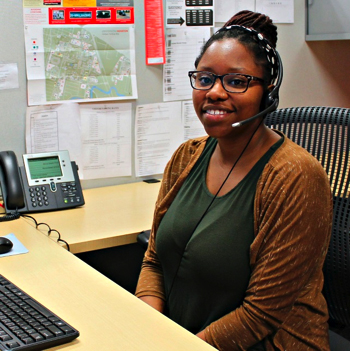 Bianka Butler has witnessed a lot of changes at the University of Houston in the few short years she's been here.
A senior majoring in health and minoring in finance, Butler has seen unprecedented growth and change take place on campus.
"As the University of Houston continues to grow and become the powerhouse that it is, I have been able to grow along with it," she said. "I enjoy that part of it and being able to see everything come to fruition."
As a senior in high school, she had the opportunity to tour UH and see various parts of campus, including the dining locations at what was then the University Center, but which is now known as the Student Center. So when she started her freshman year a few months later, she went exploring.
"I was looking around and getting lost, looking for the Chili's Too location in the old UC," she said. "People told me the building was being renovated and the Chili's didn't exist anymore. I couldn't believe how things changed so quickly."
Butler, who is from Spring and will be graduating in May, has seen many other new buildings pop up on campus during her time here at UH. They include TDECU Stadium, Cougar Woods Dining Hall, the Welcome Center Student Garage and the Cougar Place residential community.
During her junior year, she applied for and was hired to be a student worker in Parking and Transportation Services. As a customer service representative, she works three days a week. The bulk of her duties revolve around fielding telephone calls to the customer service line.
"We answer all sorts of questions people have about parking," Butler said. "It pretty much includes everything related to parking that you can think of."
She remembers one particular call she answered last year that stands out above all the others.
"It was probably the saddest call I have received in my entire life. This man said he was literally using every dime he had to get to the University of Houston from his home in Mexico," she said. "He was asking if he could park his camper on campus because he couldn't afford to live anywhere else."
Sometimes when people call, they are upset about something, such as a parking citation they have received.
"I am a happy person, so if someone calls angry, I try to make them a little less angry," Butler said. "I tell them I understand and that I am a student here, too, and that I can identify with the struggles they are going through."
During the first few weeks of the semester, she and the other customer service representatives stay very busy answering questions from callers. As the semester goes along, the number of calls tend to decrease. If it is a particularly slow period, she is able to use that down time to study and do homework.
After she graduates, she hopes to pursue a career in hospital finance/health care administration. She and her cousin, who is also currently a student, are the first in their family to attend UH.
She is an avid reader who also has recently started working out. She said there is also an interesting story about how she ended up with her first name and its unique spelling.
"All of my siblings have names that start with "BR" – Braxtin, Brittny, Bryce. My mom wanted to name me Brianna, but my dad did not want that. He liked Bianca. So my mom decided to change it to Bianka. She liked it better with a K."