Student Spotlight
Nikolai Robinson
UH Dining student worker
By Richard Zagrzecki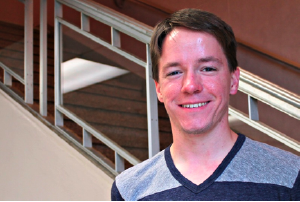 In the two short years he's been a student at the University of Houston, Nikolai Robinson has seen his full share of football and basketball games.
That's because Robinson, a public relations major from Pearland, is a trombone player in the UH marching band and the basketball band. The bands play at every home game, helping to get fans in the proper school spirit to root on the Cougars. As such, he's been a first-hand witness to the growing school pride and electric atmosphere permeating across campus.
"I really like the spirit that is here. I think UH is moving forward so quickly, especially within the past few years. I arrived at such a good time with so much momentum here," he said.
This past January, Robinson joined the UH Dining team as a student worker. He helps coordinate various events and tablings meant to market student meal plans. He's also explained the meal plans to incoming students at orientations. He's even written several news releases about various topics regarding UH Dining. At various times, special themed menus are offered at the dining halls. Last month, a carnival-themed menu was organized. To help promote it and make it fun, Robinson and other student workers came and set up games for students to play in the dining halls.
The student worker position is providing him useful experience for when he graduates and enters the workforce. Eventually, he would love to work for a PR agency, but he's open to any job in the field.
"I really like the fact I have so many options. In any field you can find a job in PR, whether it is entertainment or sports or business. I like having those options," Robinson said.
Attending UH seemed like a logical choice to him as he was winding down his high school career at Pearland High School. Several of his teachers that he looked up to went to UH and recommended it. He also has a cousin who came here and studied architecture. The fact the campus is located in the fourth-largest city in America and is close to his home was the final selling point.
"I was raised in Kansas and my family moved down to Pearland in 2008. So I really have just been introduced to Houston. I didn't want to leave," he said. "Houston is such a large city full of opportunities. It is also very diverse. That's why I decided to go to UH."
Robinson, who was born in Russia, was adopted at the age of 2. He is a movie buff who watches a lot of films and has accrued an extensive amount of film trivia knowledge.
At UH, he's involved with Kappa Kappa Psi, a national music/service organization. He's also a student ambassador for the Jack J. Valenti School of Communication and is a member of the Public Relations Student Society of America.
He's glad he made the choice to attend the University of Houston.
"I am proud to be a UH student. I really like the environment of innovation and diversity and the atmosphere that everyone is in it together no matter where you come from or who you are," he said.