SERVICE SPOTLIGHT
UH collects 1,000 cases of water for Flint residents
By Kristina Michel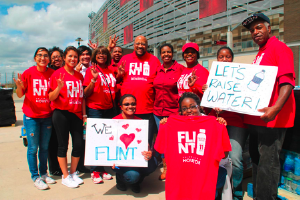 University of Houston students, faculty, staff and Houston community leaders and businesses displayed their generosity and support for the residents of Flint, Michigan, by donating 1,000 cases of bottled water at a March 11 water drive.
The event was sponsored by the Black Leadership Network and the Office of Community Relations and Institutional Access. The number of cases donated amounts to more than 3,100 gallons of water to aid Flint residents. For their efforts, the organizers and volunteers at the water drive received a certificate of congressional recognition from Congresswoman Sheila Jackson Lee.
The largest donation to the drive came from the UH Police Department, which donated 295 cases. Other UH-affiliated groups and departments that made donations included the Office of Community Relations and Institutional Access, Aramark, UH Sports & Entertainment, Information Technology, the Department of Health and Human Services, the UH Cougar Athletic Association, the Exploratory Studies Program, the Children's Learning Centers, UH Veterans Services, the Urban Experience Program, the Center of Diversity and Inclusion, the Center for Student Involvement, Sigma Alpha Epsilon, The Bridge and the Wesley Foundation. Several UH students, faculty, staff and administrators also made individual donations.
Among the many Houston community and business donors were Mel'Danci Robinson, who partnered with neighborhood businesses including Smoothie King at Woodway Drive, Joie De Fine Linens, Fresh Spirit Wellness for Women, Rose of Sharon Church, Muhammad Mosque #45 and Shape Community Center to collect 142 cases. Robinson heard about the UH water drive from the local news media announcement and rented a U-Haul truck to bring the donations to the UH water drive. Additional donors include Aldine High School and the nurses from Texas Children's Health Plan. Houston residents also stopped by the drive to make individual donations.
The UH water drive was part of a larger movement led by the Black Heritage Society called "100,000+ Cases for Flint." The Black Heritage Society has been coordinating water drives throughout the Greater Houston Area in cooperation with the Houston Food Bank and the City of Houston Fire Department. Other participating groups include Smart Yap Foundation, DJ Game Tight Entertainment, Pure Justice, A-Rocket Movers, Cut The Cords TV, the International Association of Black Professional Fire Fighters and its Houston chapter, Baby Ben Productions, The Don't Kill Me Movement and several ministries across the city. The "100,000+ Cases for Flint" campaign continues until April 12.
Donations to the drive were picked up by the Houston Food Bank. They will be shipped to water distribution centers in Flint, where they will then be distributed to residents.