Housing
UH's NRHH chapter quickly becoming one of the best
By Richard Zagrzecki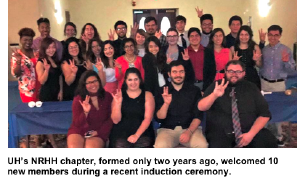 The University of Houston chapter of the National Residence Hall Honorary is making quite a name for itself in the two short years since it was launched.
The student-run organization was named the recipient of the Outstanding Chapter of the Year award in the southwest region, which includes universities in Texas, Oklahoma, Arkansas and Louisiana. The honor was bestowed during the Southwest Affiliate of College and University Residence Halls' annual No Frills Conference, held this year in Norman, Oklahoma.
In addition, the UH group received the region's Building Block Chapter of the Year award, which recognizes a chapter that shows outstanding growth and development on the campus, sub-regional, regional and National Association of College and University Residence Halls levels.
"The Building Block award typically is for a young chapter that has made outstanding strides toward improvement," said Residence Life Coordinator Aaron Crowe, who serves as the chapter's advisor. "You typically don't see a chapter win both honors. That's a testament to what we are accomplishing here at UH."
All the member schools within the region vote on who wins the awards. This is the second straight year the UH chapter has earned the Building Block Chapter of the Year award.
NRHH is a leadership-based honorary composed of exemplary residential students who value service and recognition. To qualify for membership, students must be in the top 1 percent of student leaders on campus.
The UH chapter now has 21 members, following the recent induction of 10 new members. The new inductees include Kaylin Richard, Michel Padilla, Natalie Chacon, Claudia Rodriguez, Aric Ilbeig, Alexa Abad, Khanh Ton, Juan Salinas, Jose Valadez and Gabriela Leodiou.
The NRHH chapter wasn't the only group from campus to garner an award at the No Frills Conference. The UH Residence Halls Association received the Commitment to Advocacy award, which recognizes a student-initiated commitment to advocating for residents. The RHA advisor for UH is Residence Life Coordinator Jackie Stelmaszczyk.
"These honors are an affirmation of all the wonderful and great things taking place within the residential life community here at UH," Crowe said.